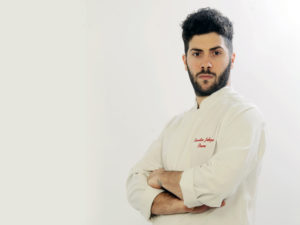 Graduated from the IISS Hotel in Altamura in 2008. He begins to deal with catering at the age of 13 following a path that sees him engaged in all departments, from pizzeria to bar, from dining room to pastry up to his first real experience in the kitchen, the first "season". He was 16, the restaurant was called Klass and was the gourmet restaurant of a 4-star hotel, the West Florence Hotel in Campi Bisenzio (FI). From there followed experiences in Puglia up to the achievement of the diploma including the Ristorante del Corso in Altamura (2 years). At the end of his studies he worked at:
Westin Excelsior of Florence – Sesto on Arno Restaurant (chef Entiana Osmenzeza)

Bebi Bistrot Altamura (chef Michele Rotondo) where he held the role of sous chef with a brigade of 6 elements, at the age of 20.

Stage Villa Crespi (chef A.Cannavacciuolo)

London kitchenette (chef Tom Aikens **)

The Dorchester Hotel (London)

Alain Ducasse at the Dorchester stage (***)

19 summer club Santa Cesarea Terme / 19 CondoHotel (Executive Chef)
At the moment he is in charge of the kitchen of the Murà farmhouse in Altamura.